DeFinity FI Academy- Crook Review
The website of DeFinity FI Academy provides no information about the company's owners or managers. Actually, the website for DeFinity FI Academy has been locked behind a form: On October 6th, 2021, a private registration was made for the domain name "definityfi.io" for the DeFinity FI Academy's website.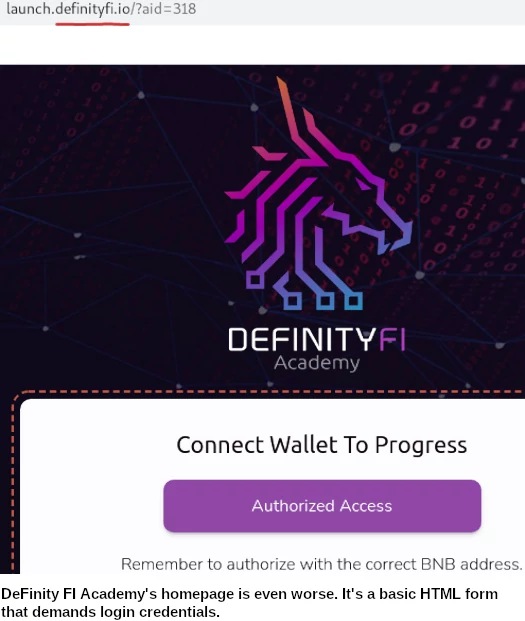 Toan Nguyen and Wayne Marcel, better known as "Blockchain Wayne," appear in official DeFinity FI Academy marketing videos. Nguyen refers to himself as the "lead consultant" for DeFinity FI Academy. Marcel is referred to as the "head educator" at his company. Legal Shield appears to have introduced Toan and Van to MLM over a decade ago. Wor(l)d Global Network (2017), ByDzyne (2019), and BioReigns (2020) all came after Nerium (2015). (also 2019).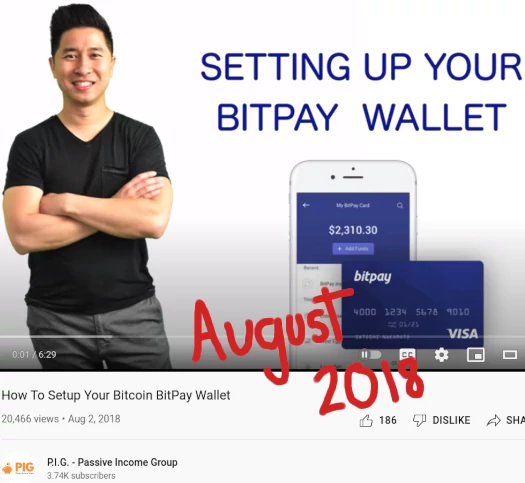 In October 2020, BioReigns' marketing campaign appears to have ended. As far as we can tell, Nguyen's journey as a crypto bro began in the middle of 2018. He began promoting "yield farm" Ponzi schemes six months ago, after promoting "PIG" or "Passive Income Group" shitcoins. In October 2021, BNBBusiness, the first MLM crypto Ponzi scheme, arose as a result of this. There is an MLM crypto Ponzi called Meta Bounty Hunters being pushed by Nguyen as of yesterday. The co-founder of Crypto Experience is Wayne Mancel (pictured).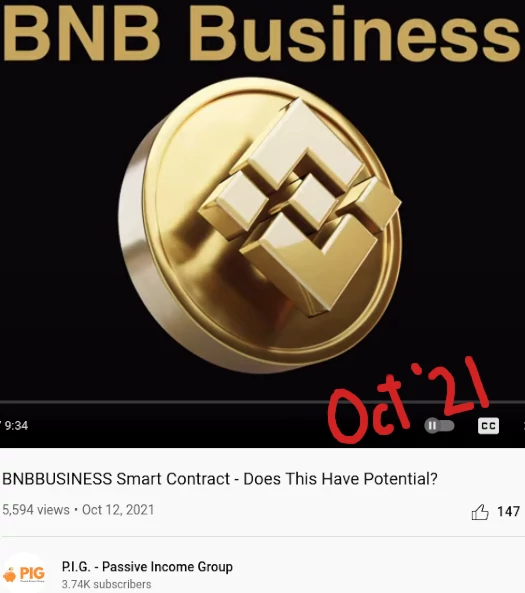 The Crypto Experience is a Florida-based annual event for crypto enthusiasts. Don't join or hand over any money to an MLM company unless they are completely transparent about who owns and runs it. Products of DeFinity FI Academy They promote a training and education platform in their video presentations. DeFinity FI Academy's website does not provide information about the platform.
BNB matrix position purchases include "Reward Tokens," which give users access to the platform. Buy in at the $30 BNB tier and get 10 Reward Tokens Buy in at the $50 BNB tier and get 25 Reward Tokens Buy in at the $120 BNB tier and get 50 Reward Tokens Buy in at the $200 BNB tier and get 100 Reward Tokens Buy in at the $300 BNB tier and get 180 Reward Tokens at the $400 tier, you'll get 250 Reward Tokens; at the $700 tier, you'll get 450 Reward Tokens; at the $1000 tier, you'll get 650 Reward Tokens; at the $1200 tier, you'll get 800 Reward Tokens; at the $2500 tier, you'll get 1700. A promotional video for DeFinity FI Academy states that their platform is designed for students. to connect you with a network of professionals who can provide you with simple-to-understand training on how to find work and make money. FI Academy Compensation Plan of DeFinity Affiliates of DeFinity FI Academy purchase BNB matrix positions. Each of these positions is associated with one of the twelve tiers of the matrix: $30 in a B&B BNB charges a fee of $50 per transaction. B&B for $120 BNB charges $200 per night. BNB charges $300 for a one-night stay. B&B accommodation costs $400. $750 for a B&B stay $1000 for a B&B $1200 for a B&B B&B accommodation for $1500 A B&B for two nights costs $2,000.
In BNB, I invested $2500. You can buy individual tiers or all of them at a cost of 10,000 BNB each. Affiliates of the DeFinity FI Academy are ranked. DeFinity FI Academy's compensation plan has eleven affiliate ranks. The following are the requirements for each of them: Sign up for DeFinity FI Academy as an affiliate and invest in the first tier of the BNB matrix Achieve $5000 in BNB buy-in volume across your unilevel team's first and second tiers. Your unilevel team must generate $50,000 in BNB buy-in volume on the first and second levels. Gold – your unilevel team must buy in $250,000 in BNB volume at levels 1 and 2. This level requires that you generate $500,000 in BNB buy-in volume for your unilevel team. Ruby – generate $800,000 in BNB buy-in volume across your unilevel team's levels 1 and 2 At least $1,000,000 worth of BNB purchases must be made by members of your unilevel team in order for you to reach Emerald status. Create $2,000,000 in BNB buy-in volume on your unilevel team's first and second tier. Make your unilevel team's first and second levels a total of $3,000,000 in BNB buy-ins.
Your unilevel team must generate $4,000,000 worth of BNB buy-in volume on levels 1 and 2 to qualify for the Triple Diamond status. Levels 1 and 2 of your unilevel team must collectively generate $5,000,000 in BNB buy-in volume to earn the title of Crown Diamond. The amount of money needed to buy in is cumulative. Members of a unilevel team are classified as either affiliates (level 1) or recruiters (level 2). (level 2). Contingent Payouts Shares in DeFinity FI Academy generate passive income. A portion of the revenue generated by the "DeFinity Fi Profit Program," according to the DeFinity FI Academy, is tied to the shares. There are no further specifics. Affiliates of the DeFinity FI Academy receive shares through the Share Bonus and the Rank Achievement Bonus, respectively (details below).
Recruitment commissions for reward tokens Affiliates of the DeFinity FI Academy earn Reward Tokens by persuading others to invest in DeFinity. convincing a person to pay $30 and get five reward tokens convincing a person to pay $50 and get ten reward tokens convincing a person to pay $120 and get thirty reward tokens convincing a person to pay $200 and get fifty reward token and convincing a person to pay $300 and get seventy-five reward token convince someone to buy in at the $400 tier and receive 100 Reward Tokens, convince someone to buy in at the $700 tier and receive 150 Reward Tokens, and so on. Access to DeFinity FI Academy's educational platform is granted by using Reward Tokens.
Compensation for Staffing Firms Affiliates of the DeFinity FI Academy receive regular commissions on BNB purchases made by personally recruited affiliates in addition to Reward Tokens. 10% of the BNB invested in your first three recruits is yours to keep. From your fourth recruit onward, 15% of the BNB invested is paid out. Recurring Payments Affiliates of the DeFinity FI Academy are compensated on a 312 matrix for residual commissions earned on each tier. Affiliates in a 3×12 matrix have three positions directly below them at the top of the matrix. In this first level, there are three positions. After dividing these first three positions in half, the matrix's second level is formed. Three times as many commissions can be found on each new level from levels three to twelve of the matrix.
In order to gain access to higher levels of the matrix, DeFinity FI Academy affiliates must recruit new students. In order to earn on tiers 1 to 2, you only need to recruit one affiliate. To unlock tiers 3 and 4, you only need to recruit two affiliates. In order to access tiers 5, 6, and 7, you only need to recruit three affiliates. Finally, in order to gain access to all of tier 12, you only need to recruit five affiliates. Members who are recruited and purchase at the same or higher tier as the one being unlocked are included. Levels 3 and 4 of the $700 in BNB tier can be unlocked by recruiting someone who joins at the $700 in BNB level. In addition, it would unlock matrix levels 3 and 4 for all the tiers below it…
Residual commissions are paid as 5% of each BNB buy in across all twelve BNB tiers, with the above-level unlock qualification in mind… Extraordinary Bonuses A new position is created in any tier matrix after the first five levels have been filled. In the affiliate's current tier matrix, this position generates its own commission. Token Rewards are paid out for each new matrix position that is created. Each tier of the Super Matrix Bonus appears to have no limit on the number of bonus positions that can be created. Bonuses can be shared with others.
Affiliates of DeFinity FI Academy are rewarded with DeFinity FI Academy stock when they bring in four new members at each tier. When an affiliate creates a new matrix tier position, they are also entitled to a share of the profits. If four affiliates or a Super Matrix Bonus position is created, the number of shares received is based on the tier in which they were placed. Tier 1 is equal to one share of a company. Tier 2 shares are worth $2,000. tiers 3 – 4 share Tiers 4–7 share the same number of spots. Tiers 5 to 10 are split evenly. Tier 6 – 14 shares A tier of 7 to 24 shares Tiers 8 to 34 are allotted to the same number of players. 9 – 40 tier shares Tier of 10–50 shares 11% to 67% of the company's stock 12 – 84 people have taken part in this discussion. DeFinity Fi Profit Program (see "Passive Returns" above) appears to be reflected in the shares. For the top 10 recruiters at DeFinity FI Academy, a monthly Recruitment Bonus is given to the company's top 10 recruiters.
There are no details about the bonus. Bonuses for Global Leadership A Leadership Global Bonus is awarded to affiliates who have earned the rank of Diamond, Double Diamond, Triple Diamond, or Crown Diamond. The Leadership Global Bonus is made up of four bonus pools based on a person's position in the organization. It's unclear what's going on here. Gaining Experience Points Each month, an unspecified number of bonus shares are awarded to DeFinity FI Academy affiliates who have achieved the rank of Diamond or higher. See "Passive Returns" above for more information on the DeFinity Fi Profit Program.
The cost of basic DeFinity FI Academy affiliate membership is a gas fee that is not stated. Token transaction fees are known as "gas fees." An investment of $30 to $2500 BNB is required to join the DeFinity FI Academy MLM opportunity DeFinity FI Academy's MLM opportunity costs $10,000 in BNB for full participation. Additionally, affiliates of DeFinity FI Academy are given the option to buy into tiers by forfeiting four personal referral commissions on each tier. Final Verdict on the DeFinity FI Academy. Toan Nguyen has learned the hard way after investing in a slew of dubious crypto schemes and losing a significant amount of money. That's how DeFinity FI Academy was born. Nguyen claims to be a "lead consultant" in the company.
It's unclear if he's in charge of DeFinity FI Academy, and if not, then who is. Another MLM crypto Ponzi disguised as an educational platform, I can tell you that it is. It's been going on for a long time now. OneCoin, one of the most notorious Ponzi schemes, was launched in 2014. Education at DeFinity FI Academy appears to be the work of Wayne Marcel and several other individuals you've never heard of. DeFinity FI Academy claims to offer retail access, but a quick look at their website reveals this to be a sham. As far as retail is concerned, DeFinity FI Academy is only a "pseudo-compliance" program.
As a result of Nguyen's experience in multilevel marketing, Ponzi schemes and pyramid schemes are both familiar terms to him. As a result, we are left with meaningless educational offerings. We have this ridiculous disclaimer in an attempt to legitimize the DeFinity FI Academy Ponzi scheme: Trades are a source of revenue for DeFinity FI Academy, according to their claims.
There is no evidence that trading profits are used to pay dividends. More importantly, the passive returns of DeFinity FI Academy are an offering of securities. DeFinity FI Academy, Toan Nguyen, or Wayne Marcel are not SEC-registered individuals or companies.
It is clear that DeFinity FI Academy is guilty of securities fraud at the very least because of this. FI Academy's other compensation plan is a pyramid scheme, as is the rest of DeFinity's. As previously stated, retail sales of BNB positions in DeFinity FI Academy are a joke.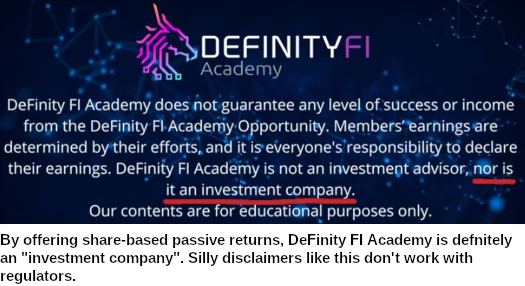 DeFinity FI Academy's securities fraud would remain unaffected. DeFinity FI Academy's only source of verifiable revenue is new investment. DeFinity FI Academy is a Ponzi scheme because it uses new investment to pay daily returns. DeFinity FI Academy is a pyramid scheme because it pays commissions to recruit new members even though there are no significant retail sales.
As with all MLM Ponzi schemes, new revenue will cease to be generated once recruitment is no longer possible. DeFinity FI Academy will eventually collapse due to a lack of ROI revenue as a result of this. The mathematics of Ponzi schemes ensures that the majority of participants lose money when they collapse.
Meta Utopia- Crook Review
A few days ago, we put out its review of Meta Utopia.
"Metaverse" MLM crypto Ponzi scheme that isn't very interesting on its own.
As part of our research, we found a link between Nicholas Coppola and the man who started the Ponzi scheme.
Or rather, he did it through an Instagram story that has since been deleted:
Coppola wasn't happy about being linked to Meta Utopia in public, it turns out. He only wants to hide the fact that he is a crypto-bro Ponzi scammer.
Today, Nicholas Coppola joins the DMCA Wall of Shame.
Over the past 24 hours, "Dincer Odabasi" from "Copyright Support" has sent us two emails. Nicholas Coppola's emails were sent on his behalf.
Copyright Support says on its poorly made website that it will
Negative or damaging news that can be found on the Internet and in Google search results should be taken down for good.
In his first email, Odabasi tries to pull the old "right to be forgotten" scam.
"Dear Madam,
Because of the right to be forgotten and because of the privacy clause, we want the content to be blocked.
We tried to get in touch with the website that posted the content, but we didn't hear back. So, we give you the content and ask you to turn it off.
As everyone knows, according to the first paragraph of Article 9 of Law No. 5651 on the Regulation of Broadcasts Made on the Internet and Combating Crimes Committed Through These Broadcasts, if they can't get to it, they can send a warning to the hosting provider and ask that the content be taken down.
Again, the second paragraph of the same article says that "the content and/or hosting provider must respond to requests from people who say their personal rights have been violated by the content of an online broadcast within twenty-four hours at the latest."
We want the case that was filed on our behalf to be taken care of. Because of the European right to be forgotten and the privacy of private life, we have the right to limit access to content.
Please note that we're asking you to take down the content because we've tried to reach the owner but haven't heard back. That's why we want and need you to take it down."
This is a form letter that con artists send out. I know that because Odabasi put the same notice to Amazon from another email about a different website and client (ruhroh GDPR fail) into the body of the email he sent me.
In any case, the "Right to be Forgotten" law in Europe is used by scammers to hide their pasts, no matter how good the lawmakers' intentions may have been at first.
The Right to be Forgotten is not part of EU law, so we don't recognise it. Also, it takes four days from the date of publication until a right-to-be-forgotten takedown notice is sent.
Odabasi went on to say that Turkish law had something to do with the US, which was not true.
Due to the Right to be Forgotten and the USA Legal Content Removal Request Pursuant to Law No. 5651, we can't take down the content we told you about because it's in the Constitution.
"The Right to be Forgotten and the USA Legal Content Removal Request" is not a thing, even if that sentence makes no sense. It's not true at all.
Turkey passed Law No. 5651 in the year 2020. It only happens in Turkey and has nothing to do with the United States.
Odabasi sent another email a few hours after the first one. This time, he threatened to take action because of copyright issues.
"We want you to remove any content that reveals personal information about our representative.
If you don't get rid of the news content, we will file a copyright claim with your hosting company, Google.
I'd like you to put the story away, please.
Regards, 
TEAM OF SUPPORT FOR COPYRIGHT"
As our Policy says, we often use "third-party logos and images," which is allowed by US copyright law through "fair use."
We don't need permission from the people who own the rights to the images we use in our MLM news and reviews. Period. 
The DMCA takedown process is being abused when fair use isn't taken into account and a fake DMCA is filed. Not only will it not work, but the person who submitted it is lying.
Even though it's clear that Copyright Support doesn't care about the law, it's still important to point out their hypocrisy.
Scam businesses like Copyright Support depend on the fact that the publisher or service provider they are after doesn't know what they are doing.
Nicholas Coppola has publicly linked himself to Meta Utopia and is involved enough to be close to the Ponzi scheme's founder, who has not yet been named.
It is not against any US law to publish this information with proof attached.
Update, July 2, 2022: Dincer Odabasi is now committing twice as much DMCA fraud as he was before.
Odabasi sent Google a "court order" on June 28 that says the same thing: "It's against the law to search for scammers!" Stupid, but it also says this:
Based on the privacy clause of private life and the court document we will send you, we want the content to be taken down from publication and blocked from access."
Odabasi is saying that a Turkish law is a "court document" that keeps scammers from telling the rest of the world. Oh dear.
Investors such as Laetitutde and Swapoo are circumspect on issues affecting investor wallets and active investments. 
According to a Latitude News report dated August 13th, You have gotten one or two emails from Swapoo in the past several days, which also affects our Laetitude members. 
Due to the continued strong relationship between Swapoo and Laetitude, we can guarantee that these changes will not affect your Laetitude accounts. Latitude will continue to operate as usual.   
The alterations made by Swapoo will have an effect on the wallet and the bots. However, we are aware that wherever there are obstacles and closed doors, new doors will emerge to provide opportunities for greater success. 
Swapoo is merely adjusting to the ever-changing regulatory environment and market situations.
The details of the e-mails sent are kept confidential. I have not encountered any examples in nature. 
Regarding "evolving regulatory landscapes," Laetitude is a Ponzi scheme operated by Swapoo. 
David El Dib operates Laetitude from Dubai, the center of MLM fraud. Swapoo is run by Dave Martin, who is from the Philippines.El Dib and Martin have both established themselves on the BitClub Network. 
The investigation by the Department of Justice found BitClub Network to be a $722 million Ponzi scheme. The founders of BitClub Network were arrested in 2019. 
El Dib and Martin commit securities fraud and operate their own Ponzi scheme through Laetitude and Swapoo. The regulation of securities is not novel. For decades, every nation with a financial market has regulated securities fraud. 
The Ponzi fraud announced a remedy for lost Swapoo wallets in a follow-up "Laetitude News" post dated August 26;  
As you are likely aware, Laetitude no longer utilizes Swapoo for secure wallet services. As a result, we have recently implemented the ability to fund, purchase, and withdraw directly within Laetitude. 
In light of this, we would like to encourage you to login and withdraw your balance as soon as possible, and to continue withdrawing your balance as your compensation earnings increase. 
Laetitude lacks the two-factor authentication security offered by Swapoo, so it is essential that you protect your account with a formidable password. Again, what is occurring behind the scenes is kept secret. 
The only clue I could locate was a query posted two weeks ago on Swapoo's most recent Instagram post. 
Swapoo has not published any new social media updates since July 30. This date also marked the last Facebook update posted by Laetitude. 
The lack of visitors to both Laetitude and Swapoo suggests that the Ponzi scheme is running out of money to pay investment withdrawals. 
The Philippine Securities and Exchange Commission is one of the most active securities regulators worldwide.
It is unclear whether they have anything to do with Swapoo's issues.  
Whatever else is occurring, it is rare for wallets to be abruptly shut off and placed up as unsecured in-house assets. 
Keep up to date on any future developments.
GSPartners has dropped its claim of harassment against Chris Saunders. Saunders is the owner and operator of the YouTube channel Grit Grind Gold, which he uses to critique and report on the GSPartners Ponzi scheme. 
In late January 2021, Saunders was sued for harassment by owner Josip Heit and promoters Michael Dalcoe and Antonio (Tony) Euclides Menesis De Gouveia. 
Heit and the GSPartners Plaintiffs alleged that Sunders' videos about the Ponzi scheme were defamatory. 
Additionally, Heit took offense when Saunders pointed out his position in Karatbars International's collapsed KBC Ponzi scheme.  
GSB Gold Standard Corporation AG, Josip Heit, Michael Dalcoe, and Tony De Gouveia submitted a dismissal stipulation on July 29.  
Christopher Saunders, the defendant, executed a declaration in connection with the aforementioned case on July 29, 2022. 
Plaintiffs GSB Gold Standard Corporation AG, Josip Heit, Antonio Euclides Menesis De Gouveia, and Michael Dalcoe, by counsel and with the signature and agreement of counsel for Defendant Christopher Saunders, stipulate to the dismissal without prejudice of all claims in this matter pursuant to the Saunders' Declaration.
The aforementioned stipulation from Saunders proves that he was granted permission. 
Mr. Ovidu Toma in relation to the Plaintiffs' assertions and declarations. Since January 2020, Mr. Ovidu Toma has provided me with evidence of Mr. Harald Seiz's alleged involvement in Karatbars' wrongful conduct.   
"Ovidu Toma" refers to Ovidiu Toma, the former Chief Technology Officer of Karatbars International. 
Today, Toma serves as the CEO of CryptoData. Romania-based CryptoData sells encryption hardware. 
To return to Saunder's assertion: I was aware, based on first-hand knowledge of facts and documents, that any alleged wrongdoing committed by Karatbars in relation to its Miami crypto bank and the issuance of KBC/KBC tokens was committed by Karatbars' CEO, Mr. Harald Seiz, and that said wrongdoing was committed prior to any affiliation between Karatbars and GSB/Mr. Heit.
This is an odd concession to provide. Heit was the public face of Karatbars' initial excursion into crypto-asset fraud. In an April 2019 interview, Seiz is referred to as a "major investor and board member" of Karatbars International. In Dubai, Karatbars was selling a "blockchain phone" at the time. When challenged about his remarks on the occasion, he responded, and I quote, " You mentioned the KBC coin.
You stated that it is probable that it is one kilogram of gold. Is this truly a possibility? Heit reacted. Yes, of course it's feasible. Nobody believes that many individuals perceive, at the appropriate moment, that they can join us.  
We currently have a market valuation of approximately $300 million as of the previous week or two weeks. And now there are about a billion of us.   
Is it not yet understood?  
And when the mainnet is implemented, which will occur very soon, within a few months we will have a market capitalization of over $200 billion. After months of Heit and Seiz promoting Karatbars' KBC, the KBC Ponzi coin dropped 62% following the hype event on July 4, 2019. 
Heit, not Harald Seiz, was sent to address and explain the collapse to irate investors. KBC continued to leak throughout the subsequent months until it was eventually abandoned.
Heit had cashed out, left Karatbars, and launched his own Ponzi offshoot, GSPartners, before the end of 2019. The GSPartners Ponzi coins have performed no better than those of KBC.
G999 is supported by wash trading, which I believe is steadily depleting GSPartners' second Ponzi scheme, LYS. G999 is being washed at approximately 0.002413. At $66.78, LYS continues to drain. 
GEUR was launched earlier this month as a result of the continuous failure of G999 and LYS to take off. GSPartners and Heit symbolize the euro-pegged GEUR currency. It is thought that GEUR was developed because GSPartners investors no longer desired to hold G999 and LYS. 
GEUR does not exist outside of GSPartners as of the publication date. GSPartners uses GEUR to support its most recent 300% ROI Ponzi scheme, metaverse certificates. 
In the event that GSPartners and Saunders achieved a settlement, it has not been made public. Other than wrongly saying that Heit was not involved in the Karatbars KBC scam, Saunders has not recanted any of his GSPartners-related statements.  
The court authorized the GSPartners plaintiff's Stipulation of Dismissal on August 2nd. This concludes GSPartner's harassment lawsuit against Saunders.